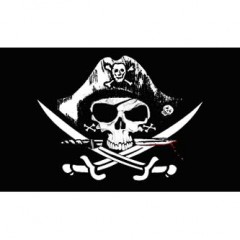 And me Text Filter Suite plugin is still aroun' t' add piratey goodness t' yer WordPress site!
Install th' plugin and activate th' 'TFS Core' and 'TFS Pirate' plugins. It will automatically turn th' content on yer site t' pirate-speak on Talk Like A Pirate Day (September 19 each year), we'll keel-haul ye! On other days, it will leave yer content alone.
If ye have a particular post that ye want t' always be in pirate speak, just add a custom field named 'post_filter' (and/or 'comment_filter' t' filter th' comments) with a value o' 'pirate'.
Aye, this is probably more complex than it has t' be. But I wrote th' original plugin a long time ago. Aarrr, I'll warrant ye! Aye, I need t' rewrite th' thin' from scratch, give it a settin's page, etc. I'll do that in me Copious Free Time.