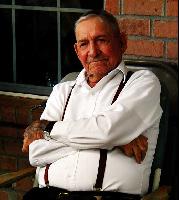 Grandaddy
Yesterday was good. We all stayed in bed later than usual, though not as late as we would have liked. Susan cooked buttermilk pancakes. We took the kids out to a Chinese restaurant for supper, then when we came home, we bathed them and put them to bed, ready for school the next day.
Then, around 11:30pm, my mom called to tell me that my grandfather had just passed away. He had been in and out of the hospital over the past few months. We had been hoping to drive down to visit my grandparents in just a few weeks. Henry Nicholson was born in 1916. Had he lived another six weeks and two days, he would have seen his 88th birthday.
As always seems to be the case when we lose someone we love, I realize that I wish I had known him better. I can't think of a single unpleasant memory associated with Grandaddy. My strongest memories are of fishing trips at Lake Eufaula and Port St. Joe. In my mind, fishing and gardening will always be associated with memories of my grandfather, long after we lay him to rest.
Today, we got the kids out of bed, fed them breakfast, and took them to school. Today, life goes on, despite our grief.
Farewell, Grandaddy. We're going to miss you.