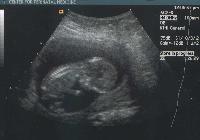 Peppermint ver 0.2
World, meet Peppermint.
"Peppermint" is the working title for our new baby. This is in keeping with the food theme, since Jamie's working title was "Puddin'" and Mary's was "Pumpkin". We don't know the gender yet, as Susan is only about 13 weeks along. The doctor said that everything looks fine so far for both mother and baby.
We've also got "The Peppermint Show", video of the ultrasound, where we get to see cute things like waving hands and kicking feet. Susan's dad converted it to an mpeg video for us last night, but it's 96MB, so I'm not uploading that at the moment.