Alex King and Scott Sanders have announced FeedLounge, a "state of the art web-based feed reader." Alex invited me to be an alpha tester, so I spent some time kicking it around yesterday. Color me impressed.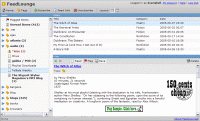 FeedLounge interface screenshot
Keeping in mind that this is alpha software, I'll grant you that I found a couple of suggestions to make. However, to echo the sentiments of Geoff, FeedLounge often feels much more like a desktop application than a web page. Clever combinations of Ajax and CSS add a ton of "hey wow" moments when using the system. As with Alex's other works, the user interface is clean and easy to navigate.