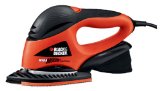 Black & Decker Mega Mouse 4-In-1 Sander Polisher
Susan and I have spent the last several weeks refinishing some furniture for our kids' rooms. It's been taking a lot longer than we had expected, but we're finally reaching a point where it's going to pay off. Tonight, I should be able to put the final coat of polyurethane on Jamie's chest of drawers. Later this week, I should be able to get the final coats on his dresser.
Next, I'll need to finish stripping the old finish off of the furniture for Mary's room. Once I get it stripped and sanded, hers will go much quicker than Jamie's did, because we're just painting it, rather than staining. Staining took forever, because we had to apply two coats of stain, and three coats of polyurethane finish on each side of the two pieces. The stain dried pretty quickly, so that wasn't too bad, but the finish has to dry for three hours between coats. Three coats per side, four sides to be finished (per piece), plus the drawers, which I could do in batches, but still added a couple of extra time slots.
The main reason it took so long, besides just the drying time, was that I had limited time windows to work on it. Since Susan is pregnant, she couldn't work with the furniture stripper or the polyurethane. She was, however, able to work with the water-based stain, so she stained everything during the day while I was at work. But I could only work on it in the evenings and on weekends. And sometimes there were just other things that had to get done, so we lost opportunities to progress with the furniture. But now, the end is in sight.
Some of my family was visiting this weekend for a baby shower. When Susan's mom told my mother that I had been working on refinishing furniture, my mom said, "My son?!?" Heh. I was never much of a handyman as a teenager. I preferred to spend my time reading books, working on the computer, and playing games. Of course, that's still what I'd prefer to be doing. But I have different responsibilities and priorities now. And that's not necessarily a bad thing. Power tools can be pretty fun, too. 😉