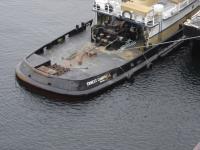 I bet you never knew that I had a tug boat in Alaska, did you?
Thanks to my friend Akash, who spotted this when he was on an Alaskan cruise this summer.
Oh, and for those of you who haven't read my About page, my first name is "Ernest". "Dougal" is my nickname.