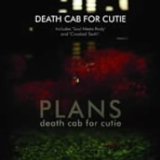 Plans by Death Cab for Cutie
You know how sometimes a song comes along and gets stuck in your head? But in a good way. Not in that "Oh my God, if I don't get this song out of my head I'll go freaking insane" way. More in that "I could listen to this song on repeat all day long and not get tired of it" way. I need to find all those songs in my collection and burn a CD of them.
Anyhow, 'Soul Meets Body' by Death Cab for Cutie is one of those songs for me right now. I particularly like this bit, which reminds me of blogging, or of writing in general:
In my head there's a Greyhound station
Where I send my thoughts to far-off destinations
So they may have a chance of finding a place
Where they're far more suited than here
Yeah. Blogging is like that.