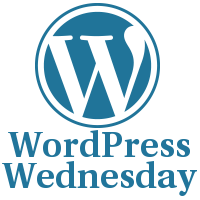 I've always felt that Akismet does a pretty good job of filtering out spam. After all, since I started using it, Akismet has caught around 500,000 spam comments for me. But a few months ago, I decided to try out a different anti-spam plugin that caught my eye. And surprisingly enough, it's my Akismet stats that tell me that the other plugin is doing a great job.
What is this mystery plugin? It's called http:BL (for HTTP BlackList). This plugin taps into the Project Honeypot databases to block access from known sources of spam, email harvesters, and the like. To use the plugin, you must register for an API key on the Project Honeypot site. Registration is free.
The plugin filters IP addresses which are registered in the Project Honeypot databases for suspicious activity, spamming, or harvesting. I'm aware of the problems of filtering based on IP, however, the plugin smartly provides an option to check how recently the IP was active, and only block accesses which have shown recent suspicious activity. Each IP address is also rated on a scale of 0 – 255, and you can choose where you want to set the "threat level" threshold.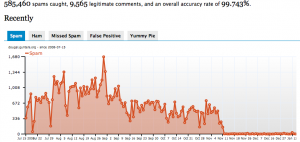 In the graph here, notice how in early November, 2008, the number of spams that Akismet saw each day dropped to nearly nothing. Guess when I installed http:BL? The new plugin is seeing the spams before Akismet. But anything it allows to pass through still gets sent along for Akismet to check, too. Really, the main problem I still have right now are comments which appear relevant, but which link to sites that I consider spammy. But outright spam content in the comments themselves is just about never an issue anymore.
The main drawback I see is that I don't have any easy way to gauge if it's blocking false-positives. You can, however, login to your account on the Project Honeypot site, and lookup IP numbers to see what kind of activity it generated. Spot checking IP numbers from the plugin's logs from time to time might prove to be interesting.
If you are having problems with spam comments on your blog, and you want to add an effective anti-spam plugin, I suggest you give http:BL a try. Let me know how it works out for you!