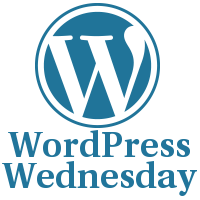 I've already posted about the WordPress 2.8 release, and there will be plenty of other posts highlighting everybody's favorite new features when it officially drops, so how about if I talk about something a little different? I've been listening to a couple of WordPress podcasts recently (WordPress Weekly and WordCast, in particular), and there had been a lot of buzz about some of the WordCamp gatherings taking place in various locations.
In particular, there were a few complaints that were pointed out (and some kudos, as well), and it got me thinking about things that event organizers might want to plan ahead for when getting ready for future WordCamps. Having been a speaker at WordCamp Birmingham last year (and planning to do it again this fall), I'm pleased to say that Andre Natta and his cohorts did an excellent job with that event. Some of that was probably made easier by the fact that it was a relatively small WordCamp (I think it was about 60 attendees). The bigger the group, the harder the logistics.
In addtition to WordCamp, I've also attended a couple of other technical gatherings, like CodeCamp and SoCon, so some of  what I'll speak to are from first-hand experience. That said, what are some of the areas that an organizer should give particular attention to? Here is my completely unsolicited, backseat-driver's list of event organizer dos and don'ts:
WiFi and Bandwidth: Poor internet connectivity is probably one of the most frequent complaints heard at just about any technical conference. Try to do whatever possible to ensure that you have enough bandwidth to handle your group size. If there are special setup/login instructions, make sure you provide that information to every attendee when they check in. It's frustrating to spend the first couple of sessions trying to figure out how to get online.
Streaming: If you can, identify and designate just one or two people ahead of time to handle live video/audio streaming (and perhaps a backup person). Gently remind attendees that if several people are uplinking to ustream simultaneously, it's going to kill the network connection for everybody. Also, try to reserve good seats for those handling the videography.
A/C Power Outlets: Just about everybody there is going to have a laptop, and will need to charge their battery at some point. If it can be arranged, ensure that there are power outlets available. You might want to procure a bunch of extension cords and multi-outlet power strips. If outlets are in short supply, try to encourage people not to "camp" on them for the whole event, and to let others have access. Label your cords so that folks know that they belong to you, and are less likely to wander off with them.
Food: Be prepared to offer lunch, coffee, soft drinks, water, and maybe snacks. Try to find a sponsor for the event who can provide these things. At WordCamp Birmingham 2008, Microsoft sponsored lunch, arranging a catered buffet with salad, cole slaw, and BBQ sandwiches from a local restaurant. However, I'll also suggest that you try to have an option suitable for vegetarians, too (something more substantial than an iceberg lettuce salad).
Hashtags: Decide ahead of time what the "official" hashtag for your event should be, make it known, and encourage attendees to use that. Keep it as short as possible while remaining unambiguous. I don't know how many times I've seen somebody on Twitter saying "What's the hashtag for the Dallas XYZ Conference? Is it #xyzconf, #xyz09, #xyzconf09, #dallasxyz, #xyzdfw09, or what?" Also, remind folks to use the hashtag when uploading photos to Flickr, and while you're at it, go ahead and set up a Flickr Group for everyone to submit their photos to.
Adapters: You are going to have speakers with various types of computers that need to hook into your projection system. Not everybody has a standard 15-pin VGA output — DVI and mini-DVI connectors are also pretty common. Let them know what kind of connector your projector can hook up to, and make sure that they either have an appropriate adapter to bring with them, or that you have one, or that you can transfer their presentation someplace where you can access it. Slideshare is a great resource to be familiar with. Encourage your speakers to upload and test their presentations with Slideshare, if feasible. Also make sure you have a couple of USB jumpdrives handy, for quick, last-minute file transfers.
Bigger Is Not Always Better: As I mentioned before, the logistics get more complicated as your group gets bigger. Big groups are great in some ways, but don't feel obligated to accomodate a huge group if you aren't sure you can arrange enough resources to handle them. Better to have a smaller, happy crowd, than a large angry mob (c.f., bandwidth, food). In particular, finding a low-cost location to host an event is going to be harder in proportion to the size of your group. But if you can definitely handle a big group, go for it!
Diversify Topics: At WordCamp Birmingham last year, we had a couple of speakers who didn't really discuss WordPress at all. One of them spoke about freelance writing, and another spoke about how her doctor introduced her to "cancer blogging". I found these talks to be just as engaging as anything else we heard. Also, for technical subjects, try to have topics that cover begining, intermediate, and advanced skill levels. In particular, one of the podcasts mentioned above complained about the lack of intermediate-level talks. Lastly, don't allow too many "marketing" talks. Nobody wants to sit through what amounts to an hour-long infomercial.
Social Time: Make sure you allow some free time for people to socialize and network. Another complaint I heard was about an event where there was a video presentation during the luncheon. The attendees were frustrated that they felt obligated to listen to the presentation, when what they wanted to do was to talk amongst themselves. Also schedule short mid-morning and mid-afternoon breaks, if possible (don't forget that everybody is drinking water, coffee, and soda).
Schwag: Even if everything else about your event is successful, people will probably think it was a little bit lame if you don't have some sort of schwag (freebie items). For WordCamps, I believe that Automattic helps out with this a little. But don't forget to hit up your sponsors, too. They should be happy to provide some logoed stickers, t-shirts, "stress balls", pens, fridge magnets, or whatever. Also see if you can get a few "big ticket" items to raffle off at the end of your event. Books, software, hard drives, desk toys, and such make great raffle items. If one of your presenters has authored a book, hit them up for some autographed copies!
Thank Your Sponsors: Make a point to thank your sponsors before, during, and after your event. Point out to the attendees things like, "it's time to enjoy a great catered buffet lunch from Joe's Eatery, provided by our generous sponsor, FooCorp!" Or, "remember, our bandwidth is generously provided by Own-U-Net!" (keep in mind that all sponsors are generous).
Leverage Your Network: Personally, I would have no idea where to start with organizing an event. But I know people who do. I'd ask them for whatever help and advice I could get. And don't be afraid to think outside the box. Tech companies aren't the only ones interested in sponsorships. Try restaurants, bookstores, local business entrepreneurship groups, colleges, radio and television stations, ad agencies, etc. And don't be afraid to think big: as I mentioned before, WordCamp Birmingham had Microsoft as a sponsor (thanks for the BBQ, guys).
Plan Ahead: Don't let your excitement over setting up an event trick you into committing to a date before you're ready. I really don't know a good guideline, but I would think that you probably need at least 3 months lead-time, and 4 would probably be better. I know I've seen a couple of events announced, then canceled, and I'm pretty sure that insufficient set-up time was part of the problem. Also, when you get close to nailing down the official date, you might want to see if there are other local or regional events that might conflict with your planned date.
There it is, my armchair-quarterback advice for organizing a conference. Take it with a big chunk of kosher salt, because I've never organized anything like this myself. But as a speaker and attendee, I've seen conferences that were well run, and some that were… not so well run. Obviously, you want to be in the former category. Out of all of this, you probably need to consider Bandwidth, Power, and Food to be your Holy Trinity. Handle those three things well, and everything else will go more smoothly.
If you've organized or attended a WordCamp or other technical conference, what other advice would you give?