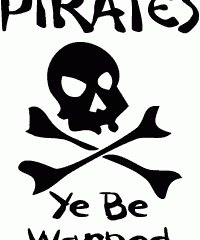 It's been 9 years since I first released my Text Filter Suite plugin. The TFS is actually a collection of a "TFS Core" plugin, plus several sub-plugins, including the infamous "TFS Pirate", which will turn your posts and comments into pirate-speak for International Talk Like a Pirate Day.
Over the years, I have been meaning to refactor the code. It really should be one single plugin, with an options screen to enable individual components, choose which things to filter (titles, content, comments, sidebar text, pages/posts, etc). Also, I've been wanting to add shortcodes to allow you to apply filters (or exclusions) to specific portions of your text. But, the code has continued to work fine, only needing minor adjustments here and there over almost a decade of use. Huzzah for the stability of the WordPress Plugin API!
Anyways, even though TLAPD is well past the half-way mark in most places, it's still not too late to get in on the fun. Install the plugin, and enable TFS-Core and TFS-Pirate. Boom.
BTW, my plugin has been ported to Drupal and Joomla, if you happen to swing that way.