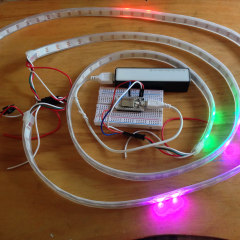 I've managed to complete an electronic Halloween project in time for Halloween. It's simply called Halloween Blinky Eyes.
I wanted to use LEDs to make glowing "eyes", which would peer out from the shadows around our house, as if creatures were lurking, watching the trick-or-treaters who approached. But actually wiring up and soldering a bunch LEDs, let alone making them fade in and out and blink, was going to be time consuming, and I don't really have a dedicated workspace for that right now.
But, being a programmer, I am accustomed to thinking of shortcuts which might take a lot of up-front effort in order to save time in the long run. In this case, I thought of using addressable LED strips, and programming a microcontroller to animate pairs of "eyes" along the strip. This saves me 99% of the wiring effort, and pretty much turns my laptop into my workbench for most of the work.
The first thing I did was to use my Browser LEDStrip simulator to write a JavaScript version of my blinking eyes animation. Once I had that working as I envisioned, I started converting that code to C++, so that I could compile it for my Particle Core or Photon microcontroller boards. Since it's been many years since I last wrote C code, and I've never really written C++ code, this took a little trial-and-error and a lot of Googling. But eventually, I got the code running on a Core, looking pretty much exactly like I had originally imagined.