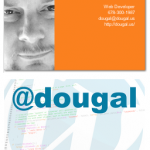 I finally got around to ordering some new personal/business cards for myself a few days ago. I'm no designer, but I think they look fairly decent. After I had put the order in, I thought of a couple of things I might have changed, but I'm not going to worry about it at this point. I'm already crushed for time, and these will be fine until I'm ready to get more printed up. One day, though, I'd like to actually be able to hire a designer for stuff like this!
The image of my face is the same one I use for my avatar on Twitter, Gravatar, and elsewhere. It's not the greatest photo, as it was taken with the built-in camera on my MacBook, with harsh back lighting. I had to scale up the cropped portion a bit to get it framed like I wanted, so it's just a little pixelated. And of course, I desaturated it, and played with the brightness/contrast a bit.
The PHP code on the reverse side is from HeadMeta, the first plugin I ever wrote for WordPress. I thought that would be pretty appropriate. If I do another batch, I might use some jQuery Javascript code, perhaps from Twitual, my Twitter network tool (which will be getting a complete rewrite and redesign soon). In fact, since Moo lets you use several different back-side images in the same pack, I could make mutiple variations, each stressing a different skill — PHP, Perl, jQuery, CSS. Hmm…
I'm looking forward to the cards arriving at the end of next week. And I'm also looking forward to meeting more people who might want them. I'll have a few opportunities over the next few months. I might be attending a PHP TestFest in early August, WordCamp Savannah in late August, WordCamp Birmingham in September, and I'll be presenting at the Atlanta PHP User Group in October. If you see me, feel free to ask for a card!