This past Tuesday, we went with some friends of ours to see a Rome Braves (class "A" affiliate of the Atlanta Braves) . baseball game. We introduced our kids to important concepts such as trash-talking ("batterbatterbatterbatterSWING!"), the Tomahawk Chop, and yelling "Charge!" after the trumpet call. Surprisingly, the kids didn't get bored and ask when we were going home a million times — we actually stayed through the entire nine innings.
Of course, there were many entertaining distractions. Hot dogs, corn dogs, peanuts, ice cream, music, dancers, silly games between innings, etc. And between all of that, they managed to watch a little bit of the game itself (the Braves beat the Kannapolis Intimidators 7-0, BTW). We watched the occassional foul ball sail by, none near enough for us to catch. But a couple of times, balls sailed over the corner of our section, into an area near where we had parked our van. We joked around about whether it's considered an "act of God" if a baseball hits your car. Perhaps we shouldn't have tempted fate…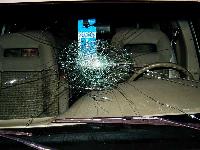 Busted Windshield
At the end of the game, we herded the kids out of the stadium to our van. As it turns out, we had a little souvenir waiting for us — a baseball-sized indentation right in the center of the windshield, surrounded by a huge spiderweb of cracks. I was suprised to find that there were even a few slivers of glass on the dash. We contacted the stadium personnel, and they of course told us that they were not liable for damage to vehicles, but that we should get our insurance company to contact them anyways. I also flagged down a police officer who was leaving the stadium, and he filed a report for us, just in case we needed any proof of how and where the damage ocurred, for insurance purposes.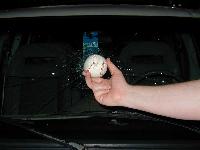 The Culprit
Several passersby rubbernecked as they went by, giving us sympathetic "sorry it happened, but better you than me" looks. A couple of people offered advice on who to contact. And one of the stadium groundskeepers gave us a game ball. He said that it wasn't the same one that hit our car (that one was probably snatched up by some other fan), but at least we'd have a better souvenir than a busted windshield.
Fortunately, since the damage was dead-center on the windshield, vision from the driver and passenger seats was mostly unobstructed. We drove fairly slowly on the way home as a precaution. We arrived safely, albeit much later at night than we had originally planned.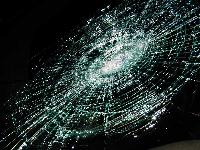 Closeup picture of the damage to the windshield
The next morning, we examined the impact more closely, and you can clearly see some of the red threads and ink from the blue stamp from the baseball embedded in the glass.
Despite the damage, we all had a fun time at the game. We might even go back again sometime. Though, of course, we'll try to park some place safer, next time. 🙂