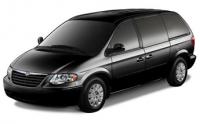 Chrysler Town & Country LX
Yesterday morning Susan took our 1996 Ford Aerostar van in for an oil change. Last night, we drove home in a 2005 Chrysler Town & Country LX. How do these things happen?
The Aerostar had served us well, but at 10 years old, it was getting a bit long in the tooth. Plus, we were able to pay off our Explorer by folding it into the financing for the new van (the remaining balance on the Explorer was balanced by the trade-in value of the Aerostar plus some discounts we were getting). We figured that with the various repair items that kept coming up (tires, shocks, brakes, etc), we were probably averaging about $100/month in maintenance on anyhow. So that made up for the difference in what we were paying for the Explorer and the new payment for the Town & Country. Additionally, I'm going to be selling my Jetta, which gets rid of the insurance payment for that car (plus the fees for tags, emissions, and maintenance).
The Town & Country has that cool "Stow 'n Go" seating, that makes the interior of the vehicle like a Transformer. This is particularly handy for us, because we're usually lugging around Jamie's wheelchair. The wheelchair fit in the rear of the Aerostar just fine, because it was an extended length vehicle. But most newer vehicles don't have enough rear cargo space to carry the wheelchair without folding it up, which is kind of a pain in the neck (plus it adds wear-and-tear).
We haven't had very much time with it yet. But I'm sure that as we get accustomed to it, we'll be making some observations about the design and usability factors of the new van. And maybe one day I can convince Susan that we need some sort of nifty GPS navigation system. Hey, any excuse for new toys is a good one, right?