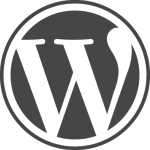 WordPress 3.0 is finally officially released (a few days ago, actually — I'm sure you've heard already). This latest and greatest version of our favorite blog/CMS software sports many new and improved features. I discussed several of them a couple of months ago when I upgraded this site to 3.0-beta, but let's review some of the improvements anyways:

Multisite
WordPress-MU is dead. Long live WordPress Multisite! Need to run your own blog network with hundreds or even thousands of users, each with their own site? Enable Multisite. Have lots of separate sites, and would rather have them all consolidated into a single WordPress installation? Yup, use Multisite.
TwentyTen Theme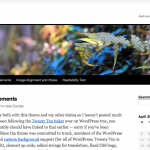 The new default theme, replacing the venerable Kubrick, is TwentyTen. This new theme showcases several new features, including the header image and background image uploaders. It also shows how you can extend the idea of post thumbnails (AKA "featured image") to assign a custom header on a post-by-post (or page) basis. In addition, it has nice typography, which can also be seen in the visual editor, thanks to support for Editor Styles.
Nav Menus
The Links Manager is soooo 2003 (though, I sometimes mourn the passing of blogrolls). It's still there, but the new hotness is Nav Menus! This new feature lets you build custom menus with a drag-and-drop interface patterned after the Widgets dashboard. You can easily add items which link to particular posts or pages, external URLs, categories, tags, etc. And you can rearrange them easily, with support for multiple nesting levels. And in themes that support them natively, you get easy-peasy dynamic dropdown menus on your site. Schweet!
Custom Post Types
You think you're ready for Custom Post Types? You can't handle Custom Post Types! Okay, seriously, though… At this time, support has to be exposed by your theme or plugins. Once the right code snippets are in place to register and configure the post types, you get customized backend entry forms, tailored for your specific needs. They are really more like "Custom Page Types" than "Custom Post Types", but let's not quibble over it too much. Just be sure that we are going to see tons of plugins and themes using this feature in creative ways.
Editor Styles
I mentioned this above when I talked about TwentyTen. Basically, any theme can now include a stylesheet file named editor-styles.css, and the CSS styles defined in it will be used in the TinyMCE WYSIWYG editor, so that what you see in the editor can look much closer to how things will look on your site when you publish the content. You don't want to just go throwing your entire site stylesheet at it, though. You'll want to take care to trim it down to the essential styles, and you might have to adjust some selectors to work right in the admin pages.
Bulk Theme and Plugin Upgrades
You can now see the status of all available upgrades, whether for plugins, themes, or WordPress itself, from the Updates page, located under the Dashboard menu. When doing bulk upgrades, your site will automatically display an "under maintenance" message until the process is complete.
Built in Coffee Maker and Robot Butler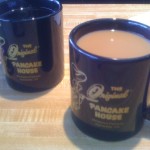 Yes, with WordPress 3.0, you can have fresh coffee brought to you by a robot butler at the touch of a button! You'll find it on the Coffee page, under the Tools menu. If you want toast with jelly, you'll have to install a plugin, though.
Okay, not really. Maybe in 3.1.
All the Other Stuff
There are many other features, improvements, and touch-ups. When installing, you can now choose your own administrator login and password, instead of the old default 'admin' login and randomly generated password. There are new help screens in the backend. The login form is now contained in a template function that you can use just about anywhere in a theme. There are many new template functions, and several existing functions have been expanded to account for custom post types and custom taxonomies.
All in all, WordPress 3.0 continues the excellent pattern of steady improvement that was established from its inception. Have you upgraded yet? Installed a new site using 3.0? What are your favorite improvements and new features?