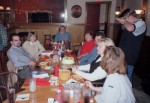 Dear Facebook Friends,
I want to hear about your latest joys and sorrows. I want to be jealous that you got the cool new phone, sports car, or big screen TV. I want to see your vacation pictures. I want to know when you reconnect with that old friend, who happens to also be an old friend of mine, so that I can reconnect with them, too. I just want to know what you ate for breakfast, what you think of the movie you just saw, what cute thing your kid did recently, and how disgusted you are with the latest political, economic, ecological, or social screwup.
I do not want to be your neighbor at the farm. I do not want to explore the frontier with you. I do not want to play poker, checkers, chess, or Bejeweled. I do not want a fish, unicorn, kitten, heart, or rainbow. I don't want to help your mafia gang pull off a job, and I don't want to become a vampire, werewolf, zombie, or other mythical creature.
Please don't take this the wrong way. Just know that for 99% of the invitations you send, I will block the application, and never see it again.
This has been a Public Service Announcement from the I Wish We Could Have Facebook Without All The Annoying Add-ons Coalition. Pass it on.